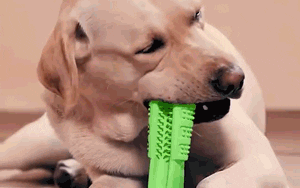 The Dog Toothbrush Stick, Non-Toxic Teeth Cleaning is a must-have for dog owners who want to keep their pet's teeth healthy and clean!

Dogs will usually run away from you when you try to clean their teeth, but the Dog Toothbrush Stick, Non-Toxic Teeth Cleaning is a great way to make your pets actually want to clean their teeth by giving them a fun and enjoyable experience!


Did you know that 84% of dogs face oral health issues by the age of 3?

Common teeth toys promise that they can clean them well but the truth is that food can not clean food effectively!

Wouldn't be awesome if your dog could brush their teeth every day on their own?

With this Dog Toothbrush Stick, Non-Toxic Teeth Cleaning, it is possible!


The Toothbrush encourages pets to clean their teeth every day. It is specially designed to clean teeth on both sides and is angled to fit comfortably in your dog's mouth.

It contains a stabilizing base and it will allow your dog to hold it easier.

The only thing you must do is to fill the toothbrush with dog toothpaste and let him ..play!


No more worries about your best friend oral hygiene!

The fact is: 4 out of 5 dogs suffer from oral disease by the age of 3! Gingivitis is one of these diseases and it leads to painful inflammation, bad breath and can easily lead to other life-threatening diseases!


Material: Liquid Silicone
Size: S/M/L


Why buy this?

Keeps your dog's teeth clean every day.
Super comfortable for dogs.
An enjoyable experience for your best friend.